Ellen Voie, Founder and CEO of Women in Trucking talks to us about her career in transport and the positive initiatives her organisation has introduced to promote gender diversity in the industry
Why don't women become truckers? That's a question that Ellen Voie is tackling head on. The mission of her non-profit association, Women in Trucking, is to encourage women to consider a career in transport, promote their achievements and address the challenges they face in a male dominated industry.

Women in trucking represent not only the women who drive the trucks, but, as Ellen says, the women who 'design the trucks, build the trucks, buy the trucks and fix the trucks' as well. It's not just a job for the boys, it's a viable and interesting career for women; if only they knew about it – and that's a message that needs to be sent out, not only from industry, but educators too. With a serious shortage of drivers, both in the US and the UK, getting more women truckers on the road is an economic imperative. Ellen's efforts to bring awareness of the great career opportunities within transportation were recognised by the White House when she was honoured as a 'Champion of Change' for 'Innovative programmes in Transportation'.

How did you get to the point where you are now in your career?
Most of us (women in the trucking industry) became involved in transportation without it being our original intent.  I took shop class in high school and learned drafting, welding, auto mechanics and wood working.  I was hired by a steel fabricating plant to draw material handling equipment.  They promoted me into the traffic department and sent me to school for "Traffic and Transportation Management" where I learned to read tariffs, audit freight bills and more.  This launched my career and while raising a family, I free lanced as a transportation consultant for 18 years.   During that time I earned my bachelor's and Master's degrees in Communication from the University of Wisconsin, Stevens Point.  I was hired to manage the Trucker Buddy program for six years.  Later, I was recruited by Schneider, Inc. as Manager of Recruiting and Retention Programs.  I was responsible for attracting and retaining nontraditional groups (Hispanics, returning military, seniors, and women).  At that time, I realized the industry wasn't doing such a great job in bringing more women as drivers.  I founded the Women In Trucking Association in 2007 while employed at Schneider.

'People were incredulous that we would WANT women to work in a male dominated environment'
Ellen Voie
Was there anyone who really encouraged you in your career, and on the flip side, were there any barriers?
I can't think of any ONE person who encouraged me in my career, but there are numerous people who believed in me and in the mission of Women In Trucking Association. From my assistant, Char, to the board of directors, my leadership coach, Joel McGinley, and our legal counsel, Bob Rothstein, everyone was so supportive and encouraging. We wouldn't have the success we enjoy today without the strength of the team.

I believe the biggest barrier was the "good old boy" atmosphere within the industry. People were incredulous that we would WANT women to work in a male dominated environment. Even women were surprised when I would ask them to consider a career in trucking. We are still battling that image issue today, but in an increasing less way as the years go by. The incoming generation of employees believes women are capable of nearly anything.

'If we don't push beyond our comfort zone, we'll never experience the sense of accomplishment we can find when testing our limits'
Ellen Voie
As your career has progressed, how have you found new opportunities, jobs and promotions?
I have always been strong willed and determined. I've pushed myself to take risks and this has allowed me to advance much further in my career. For example, at the age of 20, while working in the traffic department of the steel fabricating plant, I was asked if I could handle the role of traffic manager, as my boss was leaving the company. I told them I was already doing his job and was certainly capable! I was promoted and became responsible for all incoming raw materials, output material handling equipment, three drivers and a small fleet for a multimillion dollar manufacturing company… at the age of 20! I believed I could do it and I did. If we don't push beyond our comfort zone, we'll never experience the sense of accomplishment we can find when testing our limits.

What are the most challenging aspects of your role, day to day?
The most challenge aspect of my role as President and CEO of the Women In Trucking Association has been in managing growth. From a one person operation to a fully staffed organization reporting to a board of directors it has been a demanding process to anticipate our member's needs and to work to accommodate them with our limited resources. In nearly a decade we have grown to represent thousands of individuals and companies in bringing awareness to the opportunities for women in transportation careers. The support for our mission is tremendous as the industry experiences capacity issues and leadership diversity challenges. I anticipate a more focused approach to target specific areas as we grow in the coming years.

''The support for our mission is tremendous'
Ellen Voie
As a woman, is there anything that you feel you bring to your role that your male colleagues don't?
As women, we have a more collaborate way of leading. I don't assume I'm the smartest person on the team just because I lead the organization. In fact, I lean on my executive coach, my board and my staff for ideas and initiatives. I don't make major decisions without their guidance and more importantly, I count on them to be the visionaries and to move the organization into the future.

What do you love about your job?
Believe it or not, I love speaking to groups about Women In Trucking and our mission. It energizes me to share my passion in creating a better environment for women within the trucking industry. As we grow, I delegate the tasks I don't enjoy and focus on the things that I do best. My job primarily involves traveling around North America as well as to other countries to share information on how to grow opportunities for women. I've spoken in Sweden, Australia, Mexico, Canada, France, and New Zealand in addition to the United States. Fortunately, I love to travel and my family is grown, so I am free to do what I love the most, share our story and offer insight to those who want to see more women in transportation.

Have you had a role model or mentor in your career, and if not, is that something you believe would have been useful to you?
The one person who I consider to be my role model is my mother. Although that sounds a little clichéd, it's true. My mother made me believe that I could do anything I set my mind to. She encouraged me to push myself outside of my comfort zone. She made me the independent and strong willed person I am today. Her insight was very progressive in the seventies as she challenged us (I am the second oldest of five children) to think differently about how we can make a difference in a positive way. We lost our mother when we were very young (she died of ALS at the age of 46). However, she inspires me to this day.

What type of initiatives are you using at Women In Trucking to promote career opportunities in transport?
A challenge the industry faces is in bringing younger people into the trucking industry. They often view the truck as a smoke spewing, mechanical vehicle and the job as being labor intensive and physically demanding. That isn't the case anymore as technology has made the job of a professional driver much easier. In an effort to introduce trucking careers to the next generation, the Women In Trucking Association collaborated with the Girl Scouts to create a transportation patch. The curriculum was developed to provide the girls with hands on experience with both a truck and a female driver at a carrier, dealer or school. So far, dozens of groups in the US and Canada (Girl Guides) have incorporated this learning activity and have given young girls a glimpse into a potential career in trucking.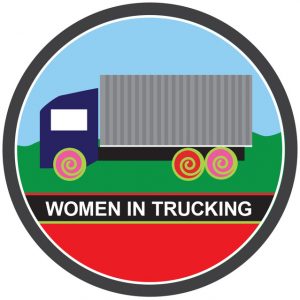 What would your advice be to any young woman considering or embarking on a career in the industry?
My advice would be to ignore anyone who tries to slow you down and to set your goals VERY high. Push yourself and work hard and you'll be successful. Never heed anyone who wants you to second guess yourself. Take risks. You'll make mistakes, but you'll go much further and enjoy more career rewards.


To find out more about Ellen Voie's pioneering work, visit Women in Trucking's website and her blog.